In the world of travel nowadays, the term travel destination with medical value has become very famous. Medical value travel destination is a branch of tourism in which patients who live abroad can easily travel to another country for medical treatment when needed. Prime Minister Narendra Modi on Wednesday announced the launch of a special category of Ayush visa for foreigners who wish to travel to India to benefit from traditional medicine.
Ayush visa for foreign patients
Once the Ayush visa is launched, foreign patients can come to India and easily seek medical treatment and benefit from the traditional medicine that India has to offer. Ayurveda, Yoga, Naturopathy, Unani, Siddha and Homeopathy are all major branches of AYUSH practiced in India. The strategy of the current government is to promote AYUSH medical travel under the banner of "Heal in India". An important element of this new initiative is the Ayush visa. Traditional practices and medicines will be encouraged by the Ayush visa. Practitioners of AYUSH and contemporary medicine are expected to collaborate to make India the premier destination for medical value travel. Using this opportunity would be wise as India is the world leader in Ayurveda, Naturopathy and Yoga. Many places in India, including Uttarakhand, Kerala, Maharashtra, Goa and Karnataka, already offer yoga, meditation and health retreats.
"The introduction of Ayush Visa in the near future will open up new avenues in the field of medical travel in India," said Shri PK Pathak, Special Secretary, Ministry of Ayush, during Plenary Session 3: Healing India – Travel of medical value. #GlobalAyushSummit @PMOIndia @CMOGuj @mygovindia pic.twitter.com/3R2MIZoBYh

— Ministry of Ayush (@moayush) April 25, 2022
Also Read: Kerala Gets Asia's First Ayurvedic Cannabis Wellness Retreat
Ayush Visa will help promote the AYUSH sector globally
During the opening session of the Global Investment and Innovation Summit Ayush 2022 in the Mahatma Mandir of Gandhinagar, Prime Minister Modi said that the Center has put in place many programs to support and advance the sector Ayush. Modi said the idea for an Ayush summit came to him during Covid-19 and stressed that investment summits are key to moving any sector forward. He highlighted the fact that Ayurvedic medicines, Kada and other similar traditional medicines were helping people boost their immunity during the pandemic. The export of turmeric from India has also increased during the pandemic. To ensure high quality across the board, the products would be stamped with an "Ayushmark", according to Modi. While discussing the Ayush visa, Modi referred to the case of Rosemary Odinga, whose blindness is said to have been cured by Ayurvedic treatments in Kerala. Rosemary is the daughter of former Kenyan Prime Minister Raila Odinga.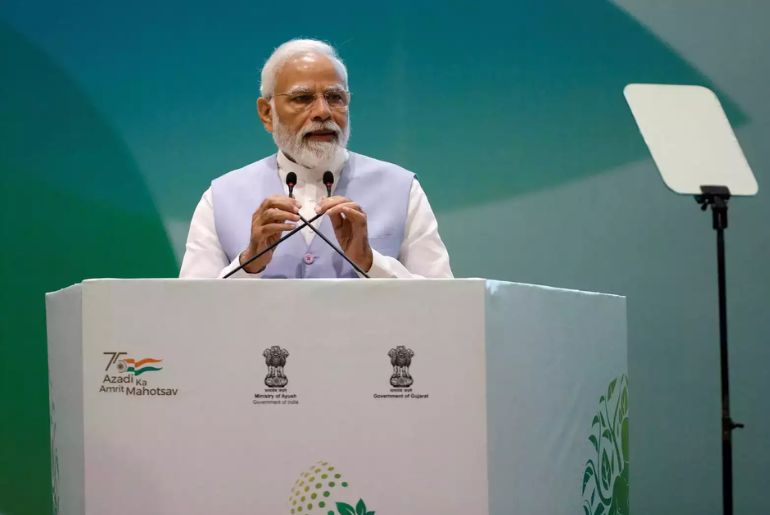 Also Read: Somatheeram, the World's First Ayurvedic Resort in Kerala, Offers Yoga Classes, Therapies and More