At one point, Brandon Varisco was said to have only reluctantly agreed to a trip to the aquarium with his wife and daughters. On Friday, however, he happily accepted an invitation to spend the day at Baton Rouge's Blue Zoo with his family.
Varisco, a veteran who once suffered from debilitating post-traumatic stress disorder, said he wouldn't have been able to focus on spending quality time with his daughters if he had done the Same release two years ago.
"I probably could have gritted my teeth, but I wouldn't have remembered the details or enjoyed going or being with my kids," Varisco said. "I would have been more anxious, ready to go, cringe. It's not like I'm scared to be there. It's just really loud, and it increases all your alertness. When it gets too hard too fast, you just want to separate you, and it becomes a big deal."
The 38-year-old father-of-three from Breaux Bridge found new life in 2019 thanks to a medical treatment that temporarily blocks the nerve that controls the body's fight or flight response. He is one of a dozen local veterans who have found immediate relief from PTSD symptoms with the rapid injection, known as stellate ganglion block, which has been used for years to manage the pain caused by nerve damage, but has recently seen success in people with PTSD. . Small studies in peer-reviewed medical journals suggest that by temporarily blocking the nerve, the injection may act as a sort of reset button for someone suffering from the chronic, unproductive fight-or-flight response associated with PTSD. .
"What we're doing is literally cutting the path between memory and the associated physiological response. A PTSD blockade will do that," said Dr. Thomas Bond, a Lafayette orthopedic surgeon who specializes in regenerative medicine. "Does it immediately cure someone forever? Well, some of them do. And that's a big no-no to say that, but I don't care. I've seen it . I did it."
Bond says he is the only doctor in the state to administer the injection to people with PTSD.
"So far it's been 100% effective in the group we have," Bond said. "We will have to see how long that lasts. I would like to get to at least 50, really 100, from a statistical point of view. If we could have 100 patients and then look at the numbers, we could do a series of cases ."
Bond said he learned of the procedure's success in people with PTSD a few years ago from Dr. Sean Mulvaney, a friend and colleague who practices medicine in Maryland. Mulvaney, who is also a veteran, has published a number of studies on the use of the injection for PTSD.
Andrew Ward, one of Bond's former employees and veteran, started a nonprofit called the Acadiana Veteran Alliance last year, in part to help fund the treatment, as the injection is not covered by health insurance for people with PTSD. Now, thanks to the alliance's Heal program, veterans only have to pay $500 of the $1,500 in treatment. The cost includes diagnostic screening, follow-up appointments and therapy sessions.
"I think we're onto something really, really big here," Ward said. "I think this is just the beginning."
Barry Bouillion, a 46-year-old Marine veteran, received the injection Thursday at Bond's office. Bouillion said he learned about the treatment through his work as a licensed professional counselor who works with veterans.
"I was skeptical before the procedure," Bouillion said. "I didn't have high expectations. I just wanted relief. I thought if I could get 10% relief, I would take it."
Bouillion said on Sunday, three days after the injection, his relief was overwhelming and almost immediate. He said he felt soothed within minutes of the injection and cried for about 30 minutes afterwards in Bond's office.
"I got very, very emotional. I started crying," Bouillion said. "And it was this kind of crying that almost felt like a profuse sob, almost like your body was trying to release things. The way I was analyzing things was almost like my nervous system was saying thank you. Thanks for the relief ."
Bouillion said the injection is not a magic pill or a cure for anyone suffering from PTSD. The trauma is still there and needs to be resolved, but treatment allows a person's body to transition from constant overload to a more neutral state, he said.
Andy Bankard, 43, was one of the first people to receive the injection under the Heal program. Bankard, who works in law enforcement, learned of the treatment from a friend and Army veteran who served with him in Iraq. He said his friend praised the injection after seeing Mulvaney in Maryland in December. By the end of January, Bankard had received the treatment at Lafayette.
"Ever since I received this photo, I feel like a new person," he said. "I feel like I have a new life, or a new meaning to life. It's like I can think clearly. My mind feels at ease."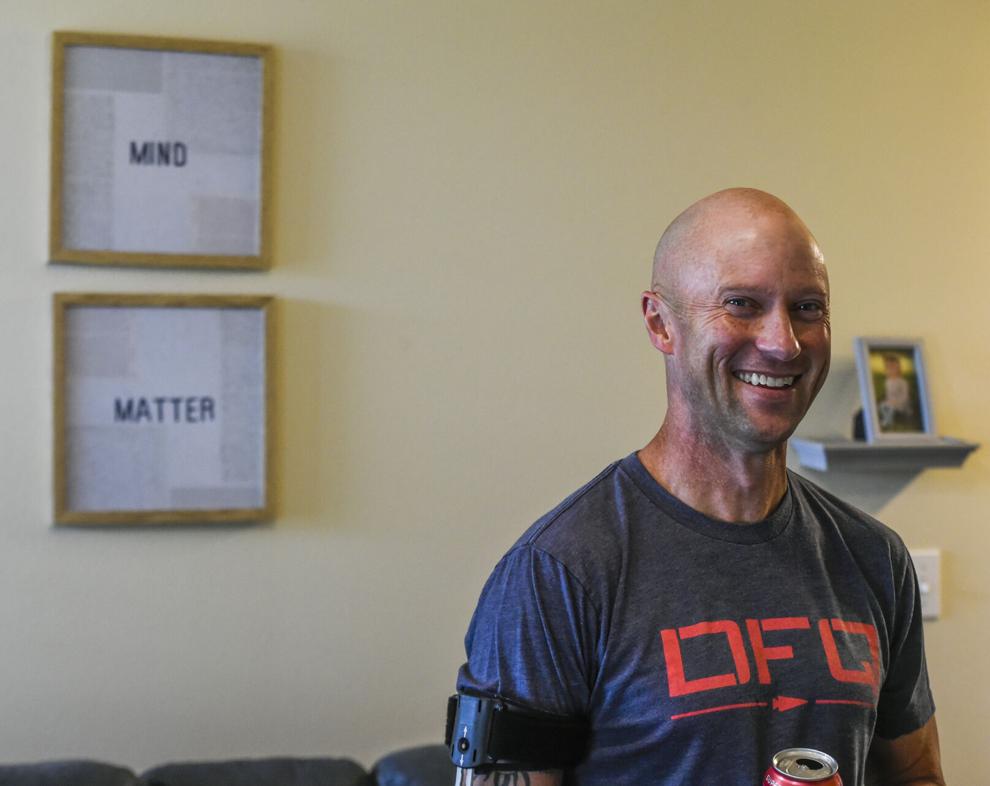 The ultimate goal of the Heal program is to demonstrate clinical validity over time to increase funding and accessibility to veterans in Louisiana and surrounding states.
Robyn Sonnier, a licensed counselor who serves as the program's clinical director, screens candidates prior to treatment and tracks their PTSD symptoms throughout the program.
Veterans undergo an Army-specific assessment of their PTSD symptoms before injection and again two weeks, two months, six months, and one year after treatment.
"It's a concrete measure to see if there's a decrease in score, which we usually see a very significant drop after injection," Sonnier said. "It's very individualized and person-dependent, but we've seen a significant drop in standard across the board."
On average, veterans saw a 28-point improvement in PTSD symptoms in the weeks and months after the injection, Sonnier said. A score of 31 to 33 is indicative of probable PTSD, according to the National Center for PTSD, which considers a decrease of 5 to 10 points to indicate reliable change and a decrease of 10 to 20 points to indicate clinical change. significant. cash.
Varisco said he saw significant improvement in not only mental and emotional symptoms of PTSD, but also physical symptoms, including chronic neck and shoulder pain.
Varisco, who was deployed to Iraq and Afghanistan during his time in the military, had been Bond's patient long before receiving the GBS injection. He still vividly remembers what brought him to Bond's office for the injection in 2019.
He had just watched a movie with his family in a cinema, which he said was stressful as he couldn't see who was sitting behind him in the darkened room, then he stopped at a pharmacy to pick up a prescription . He said he accidentally backed into a car in the parking lot, and as he was writing down his details to put on the vehicle, someone stopped him to tell him he knew the owner of the vehicle and that he could go get it. Varisco said he panicked at the time and left the scene.
"For some reason I had this fight or flight reaction. I thought I had to either fight or leave. I didn't think to shake the guy's hand or tell him I'm sorry . I just took off," Varisco said.
Police were involved in what turned out to be damages worth $57, and Varisco had to appear before a judge to explain his case. It was such a minor glitch in the grand scheme of things, Varisco said, but it was one that made him realize he had a problem.
He called Bond to request the injection, which he said provided immediate relief that lasted nearly two years.
"It was like they took a brick house off my shoulders," Varisco said. "It was instantaneous. My shoulders felt light. It was mind-blowing. It really felt like a miracle."
Varisco said he's had follow-up treatments since the first one, although he doesn't think they were necessary. His wife and children also said they noticed an immediate difference in his personality and behavior after the first injection.
"It was almost like a switch was kind of flipped," said his wife, Lisa Varisco. "It has made a difference in the life of our little family. I recommend anyone who has experienced trauma in their life to take this treatment and see if it can help them lead a more normal life. It is useful for everyone around you."
The Heal program is open to veterans, reservists, and active duty military members who meet specific diagnostic criteria. Learn more at supportava.org/ava-heal.